In my last blog post, I spoke to you about the capital of Hungary, Budapest.  In the spirit of keeping with history, I will write you today about another majestic city that has very close historical ties to Budapest – not to mention that main artery of Europe, the Danube River which flows through both cities, connecting them as the heart is connected to the brain – the elegant and beautiful city of Vienna, Austria.
Vienna (or "Wien" in the local lingo) is a city whose beginnings go as far back as 500 BC.  Yes, you read correctly, Before Christ.  As soon as you step foot on its ancient streets you feel immediately enlightened by its beauty and deep roots.  The sense of history and culture is palpable in the very air you breathe.  Of course, if you choose to go at the time of year that I went, you will also find a very palpable sense of freezing cold.  My partner in Crime and I wanted to see the world famous Christmas Markets of Vienna and that made the experience of walking in  minus 15 degree cold unavoidable.  But as uncomfortable as that may have been, I was well prepared with warm long-johns, a nice, heavy sweater, snow boots, hat, gloves and a solid warm jacket.  I was ready to explore the city and because I took my Nikon D7100, I was confident that because of its weather sealed construction I would be able to take some amazing shots of a city that saw Franz Schubert and Johann Strauss (both of them) born.
As with the city of Budapest, to have the intention to write the history of Vienna in a blog post is like trying to cover the sky with a single hand.  There is just too much to tell.   If you are truly interested, then lookup Habsburg Dynasty on your favorite search engine and enjoy the mayhem.  It is a hoot.
On my first night, I went to see the Austrian Camera Orchestra perform in the Festsaal at the Hofburg Palace.  Music is, after all, the greatest legacy of Vienna.  This is a city who apart from Schubert and the Strausses, also hosted the greatest musical prodigies of the world at one time or another.  Men such as Wolfgang Amadeus Mozart, Joseph Haydn, Ludwig van Beethoven, Johannes Brahms, Gustav Mahler, and many others made their names in this city.  After walking in the cold to the Hofburg Palace one could not go inside without first partaking of the delicious hot "punsch" (mulled wine with various flavors like apple and cherry and an added hard liquor, like vodka or rum, in case the wine wasn't enough of a kick).  One sip of that magical elixir and you could feel your body start to heat up like a tin can in midday summer sun.  After a long walk to get to the theatre in the freezing (and when I say freezing, I mean frostbite freezing) cold, the punsch was a Godsend.  As soon as I could feel my toes again, I was ready to go inside the theatre and attend the concert.
I was very surprised to see that the concert was much more modern than I expected.  I knew that I would hear wonderful renditions, although perhaps a bit hum-drum of the greats… and as far as the music was concerned they were brilliant.  What surprised me was that they also put on quite a show.  The Orchestra was dynamic and funny or even violent at times.  Their performance was not only for the ears but the eyes as well.  I have been to a great many classical concerts in my years and it pleases me to see an orchestra that understands the changing times of short attention spans regarding entertainment and who incorporate strong visuals as well as magnificent music.  After all, it is entertainment and in the words of the illustrious Bob, the times, they are a-changin'.
I did manage to piss off a woman sitting in front of me though.  The Nikon D7100 has a shutter that in a quiet room sounds a little like firing a Magnum .357 into a nuclear warhead inside a metal silo connected with stereo speakers through a ten thousand watt amplifier.  Turn on the D7100's "quiet mode" and you will manage to get rid of the metal silo but all else will be the same.  Now, don't get me wrong… I am well aware that people want to hear the orchestra and I am one of those people who hate the sound of camera shutters going off at the most inopportune moment but I always waited until the music got loud enough to drown out that "CLACK-CLACK" (which is what I imagine the old French guillotines to have sounded like back in the day of rolling heads and men with wigs, high heel shoes and mascara).  Apparently, that was not enough to avoid making the woman in front of me turn around and start talking to me in a German that rivaled Hitler's in intensity and anger before he invaded Poland (and Austria, yuk, yuk).  Needless to say, the camera went back into the bag even though many other people were using their own cameras (and cell phones) to take pictures during the performance.  Taking pictures was allowed that evening but well… frankly… the woman scared the bejeezus out of me.  In retrospect, I wish I had taken a picture of her to share with you so you could understand my fear at the horrific contortions of her face as she glared at me and in her strident, powerful German probably sent me and my entire family tree to a place where it is hot all year long and a guy with a pitchfork does bad things to you… but I was afraid that if I did that, it would only anger her more and she would turn into a three headed, fire breathing dragon that would rip me to pieces right there in the Festsaal.  Talk about entertainment!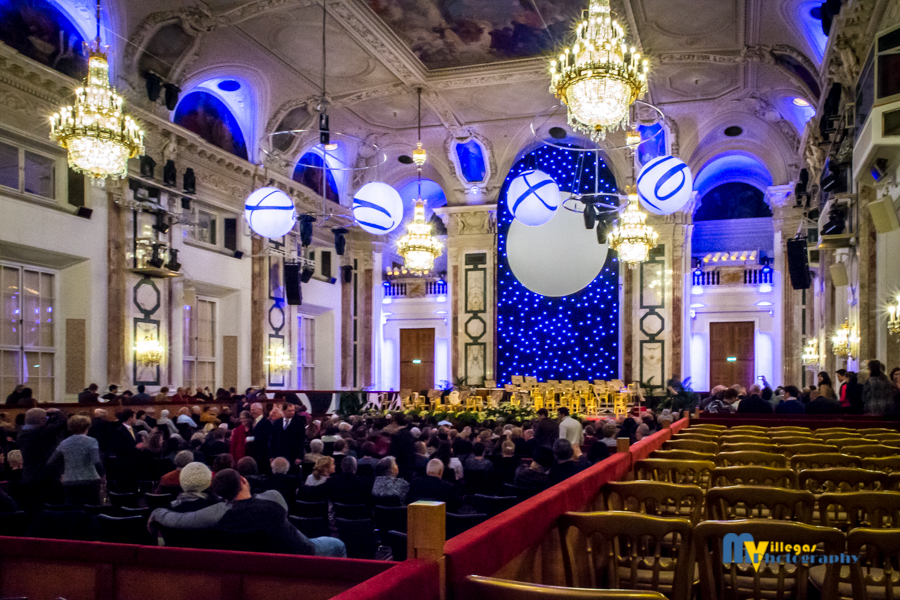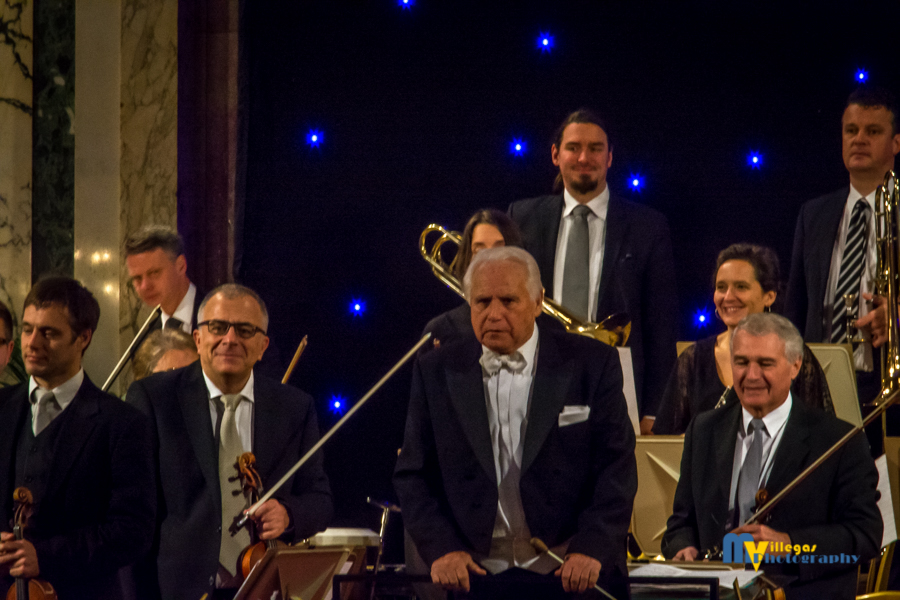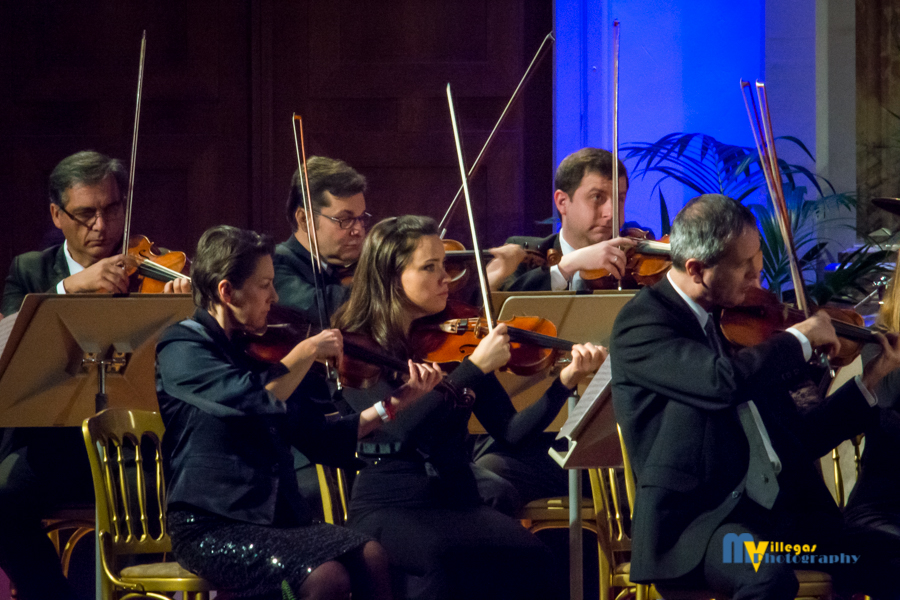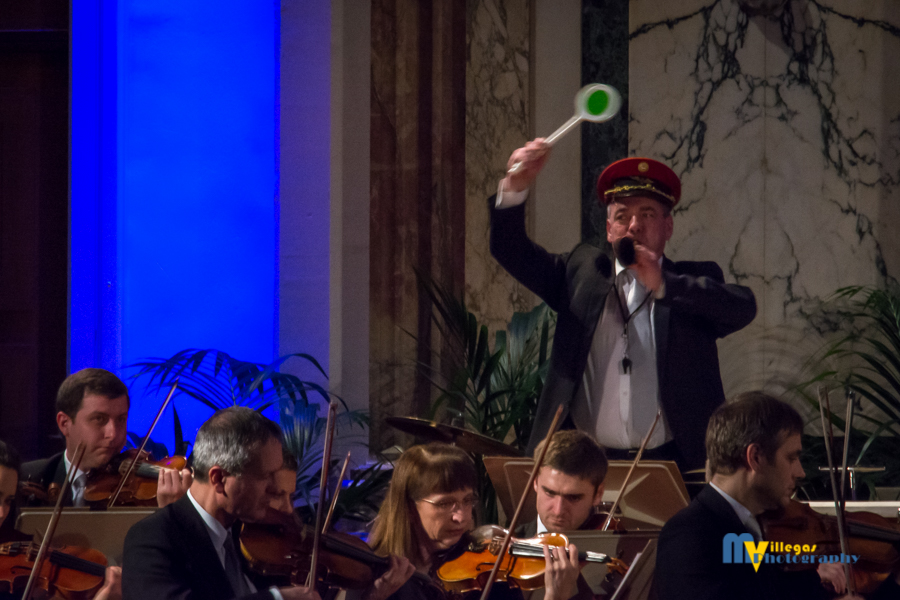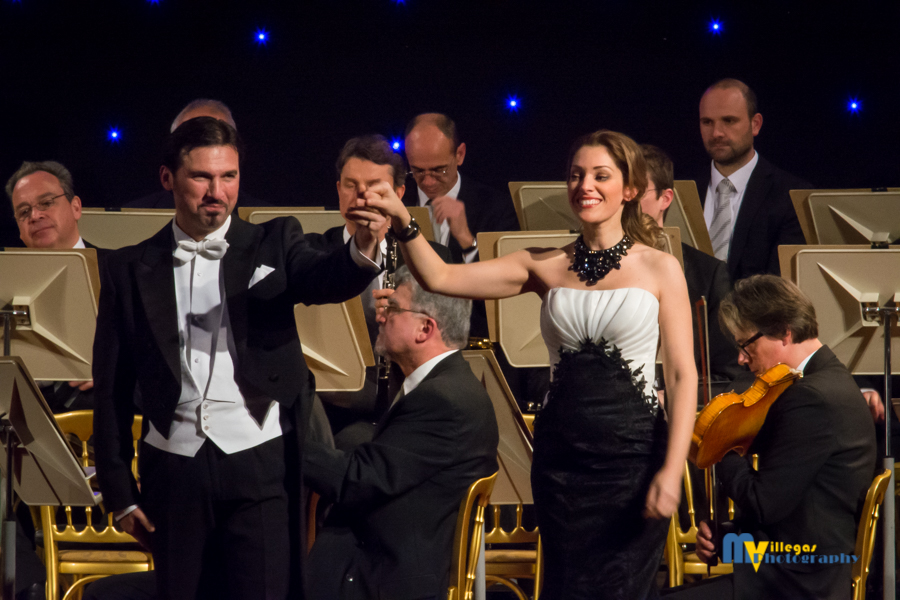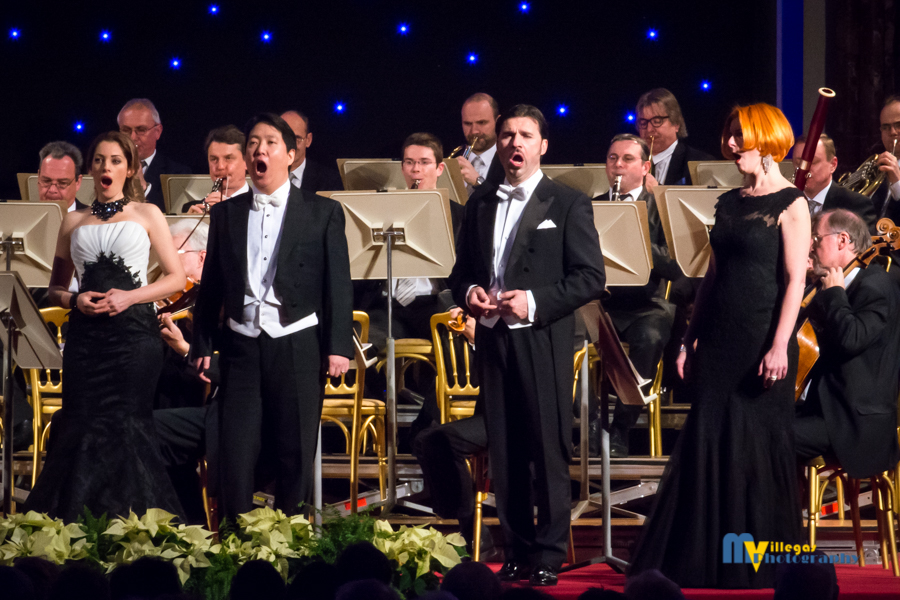 Anyways, impressive angry woman aside, the evening was fantastic.  To top off the magic, as soon as we stepped outside after the performance, it started to snow.
And snow it did….
Now, I am a sucker for snow.  I love the stuff.  I grew up in the Caribbean where it never gets cold so I am kind of like a child when it comes to snow.  I can't help it.  The Partner in Crime and I walked throughout the city for the next few days and even though our toes were blue, we loved it.
One of the places worth mentioning is the famous and impressive Rathaus.  I know it sounds like a place full of vermin and in dire need of an exterminator but it actually means "Town Hall".  So, I am used to town halls being small, square buildings with a few seats and maybe a podium for the political flavor of the month to show up looking for votes but this place is palatial and magnificent.  It is a Neo-Gothic structure built in the late 1800's in which the Mayor and City Council of Vienna go to work every day.  A true architectural work of art.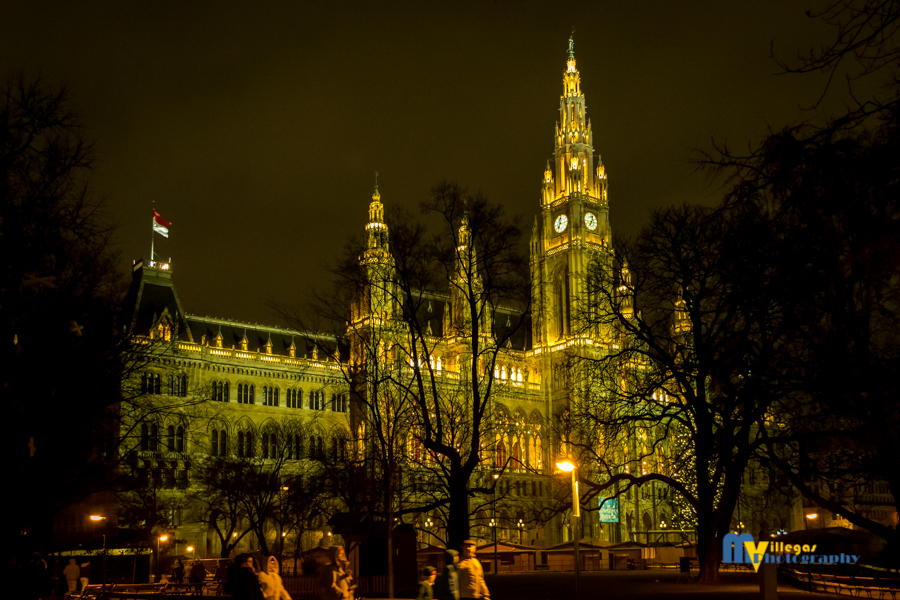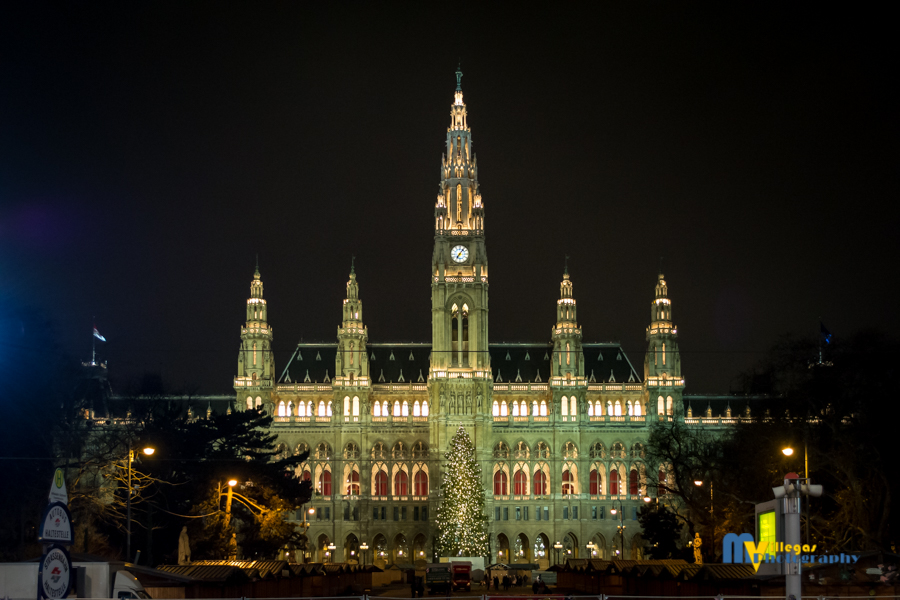 Next to the Rathaus is the Austrian Parliament Building, designed by Baron von Hansen who was in turn inspired by the design of the Zappeion Hall in Athens, Greece.  Also build around the late 1800's, it is the seat of the two houses of Parliament.  Its history is a rather indecorous one given the open brawls and the common practice of parliamentary representatives throwing inkwells and other such things at each other at the start of the 20th century.  There is a statue of Athena in front of the building and the running joke was that she was so disgusted with the behavior of the Viennese Parliament that she turned her back on the building.  Eventually, after all of the madness of the early 20th century and its ensuing wars, things calmed down and the Parliament Building is seen now with the reverence such a significant structure deserves.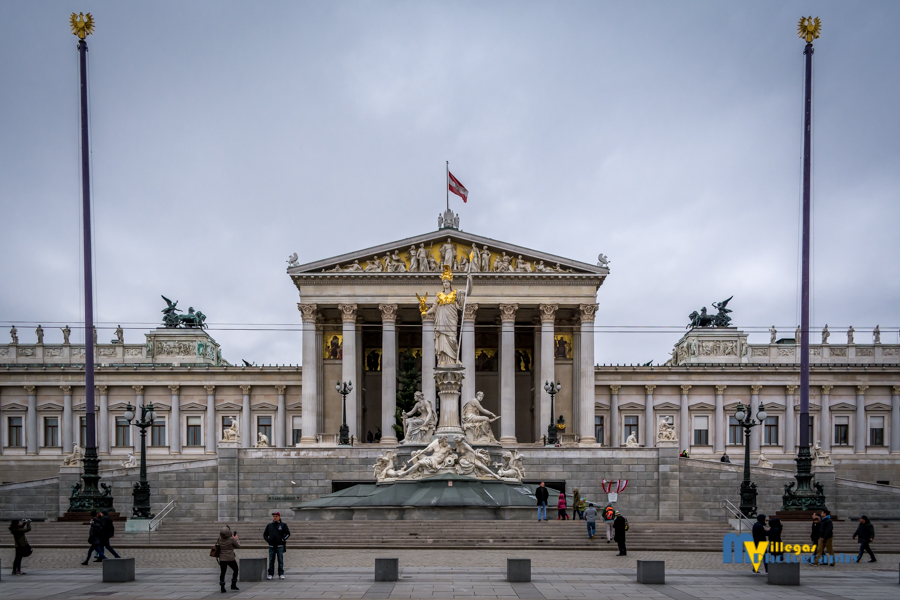 It serves to mention that both the Rathaus and the Parliament Building (and adjacent parks and theatres) are UNESCO World Heritage Sites.  Thus, if you are like me and you just love seeing things that are considered so unique that they have to be classified as such, you must see the inner city of Vienna and these majestic buildings.  They will take your breath away.
Next, we visited the commercial center of Vienna, Stephansplatz.  It is the actual center of Vienna if you look at it on the map.  It is characterized by one of the tallest churches in the world (with an observation deck and everything) the Stephansdom (St. Stephen's) Cathedral.  This amazing church was built in the year 1137 in the middle of the Second Crusade.  It highest tower stands at 446 feet (136 meters).  In the old days it was used as a kind of lookout tower and command post for the defense of the city.  It even has a special apartment where watchmen stayed and rang bells in the case of a fire or invaders.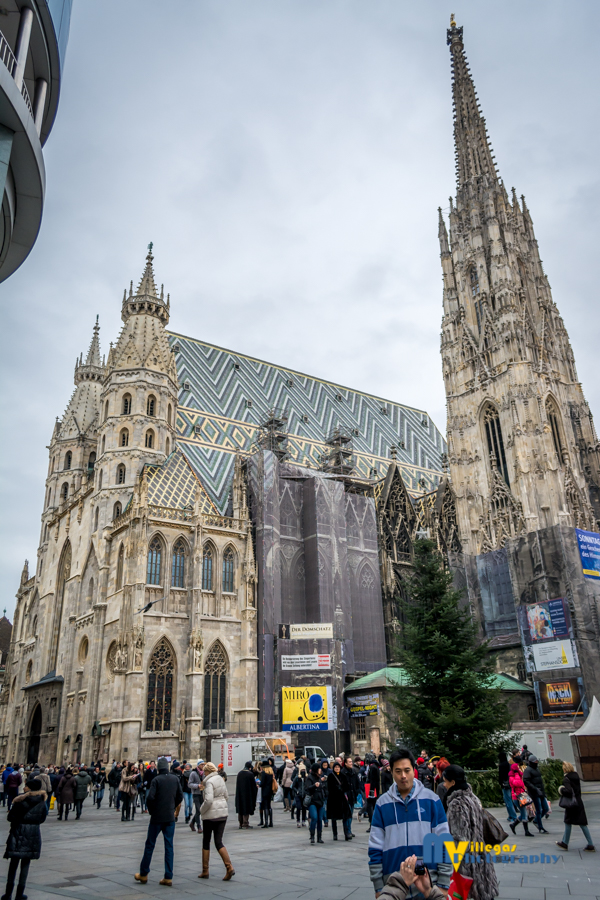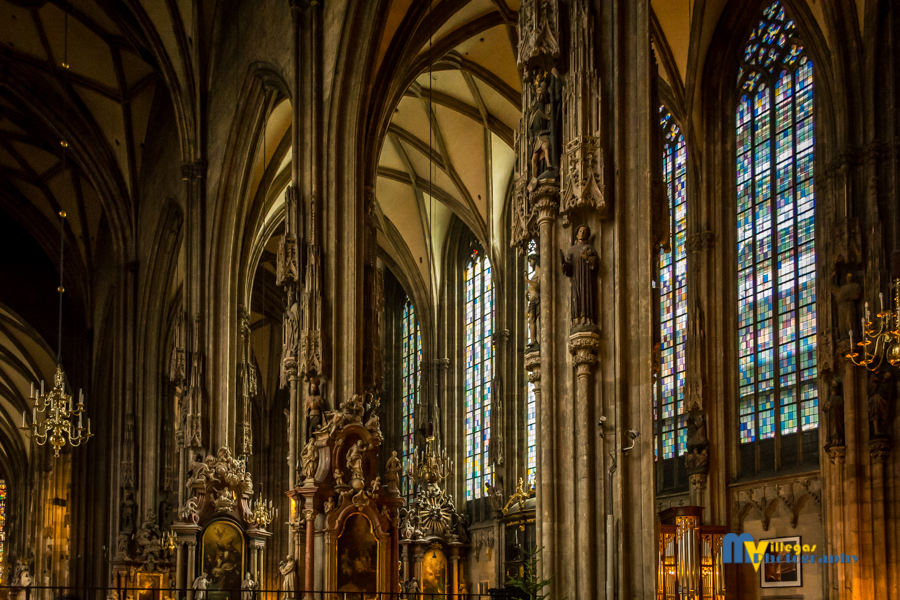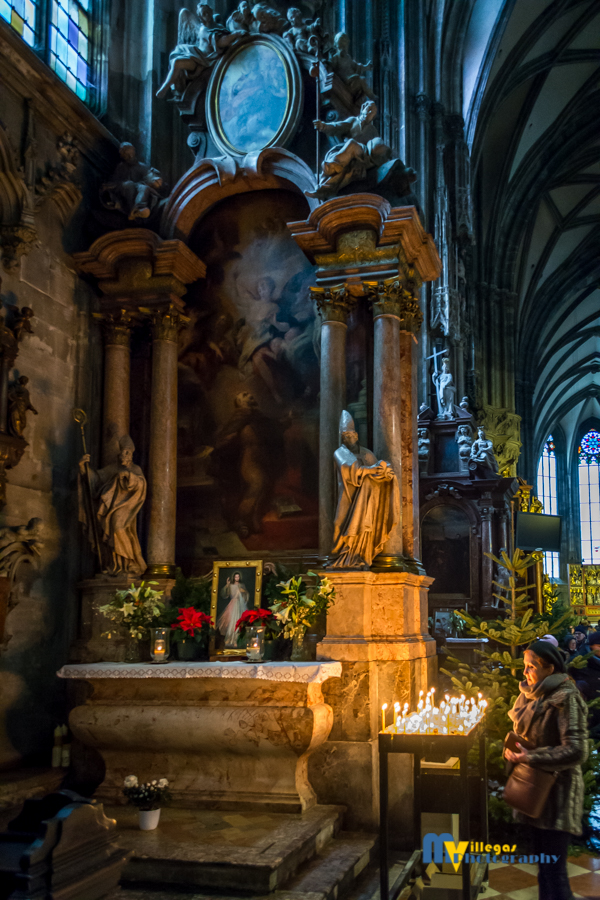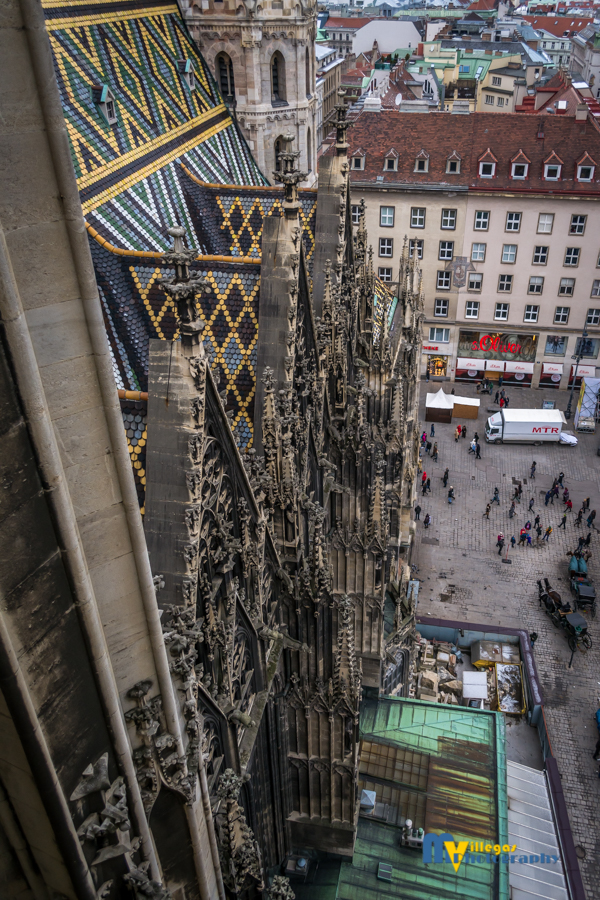 One more very interesting story about St. Stephens Cathedral is that Ludwig van Beethoven realized he was deaf the day he saw a flock of pigeons flying out of the bell tower of the cathedral due to the bells ringing but could not hear them.  That had to suck.
Surrounding the cathedral are all kinds of trendy (and glamourous) shops.  Everything from Fendi to Tiffany & Co. are here.  No cars are allowed so the streets are filled with people walking and conversing while they peruse the shops.  Very beautiful and very European.  However, do beware of the horse drawn carriages because they can come up on you quite fast if you are not paying attention.  Don't worry about stepping in anything left behind though…. The horses have bags under their tails to make sure that no unpleasant… things are left lying around where people walk in their expensive shoes.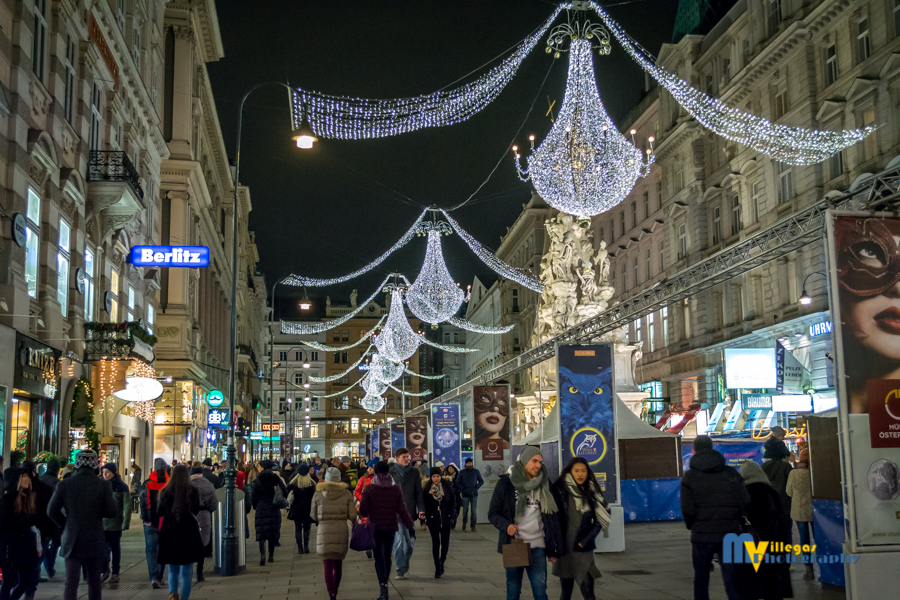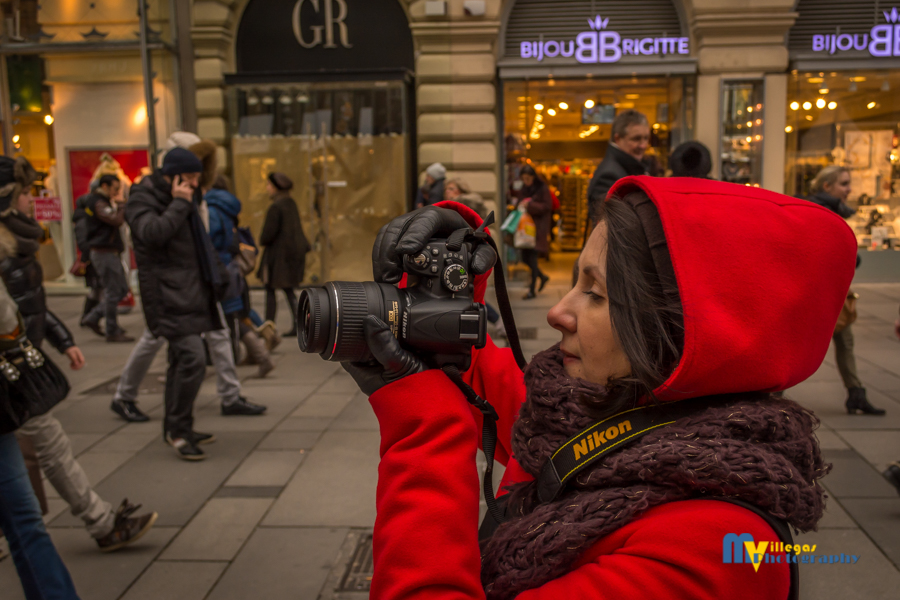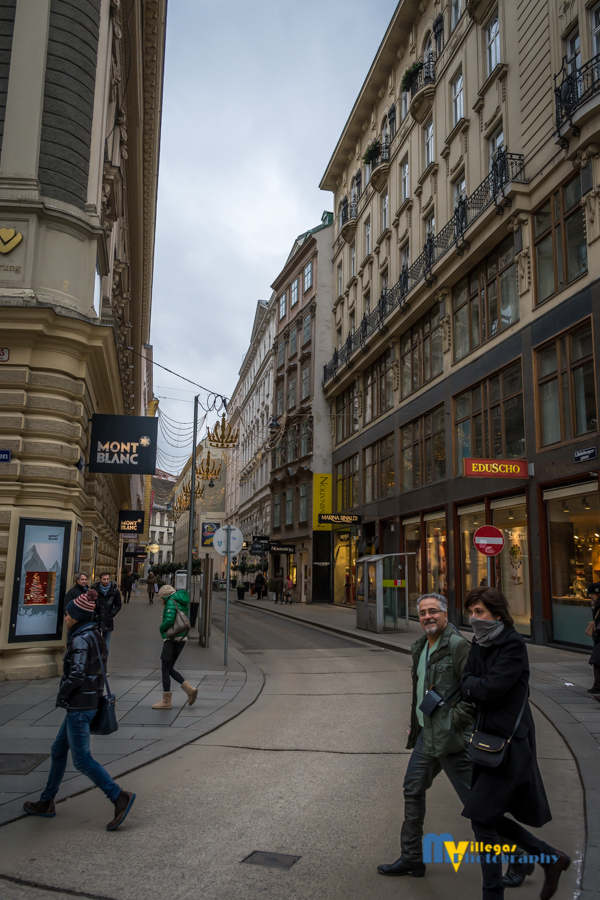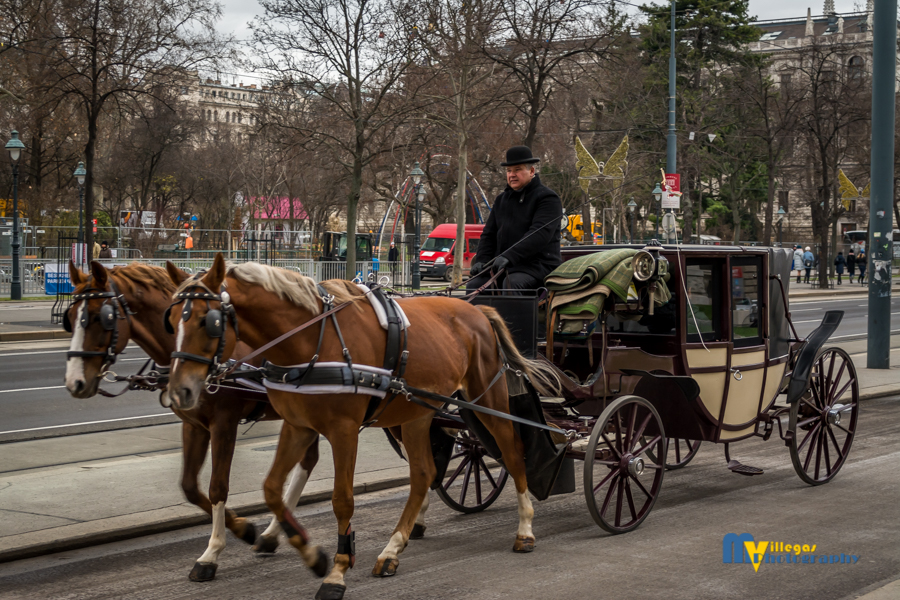 One more thing to say about Vienna….  BEER!!!!  And that is all I feel is necessary to say about that.
Finally, we come to the world famous Christmas Markets.  Truth be told, they are beautiful and fun.  At these markets you can buy hot punsch, pretzels, soups and strudels to keep you warm and full as well as all kinds of handmade Christmas ornaments and gifts.  They do tend to get quite full of people so if you are the antisocial type, don't even bother.  But if you are like me and you love to see people of all kinds, this is the place for you.  The kiosks are colorful and tended by colorful people.  Each one of them provides a story and vision that will stay with you for as long as you live.  Yes, it is true that today there are Christmas Markets all over Europe and yes, they are also very cool, but the original ones are the Viennese Christmas Markets.  If you like original, Vienna is the place to go.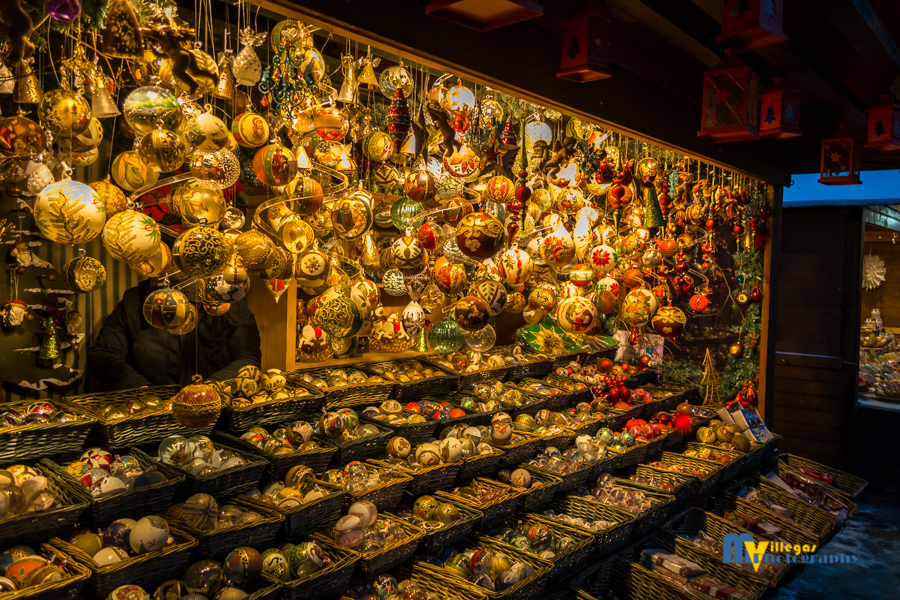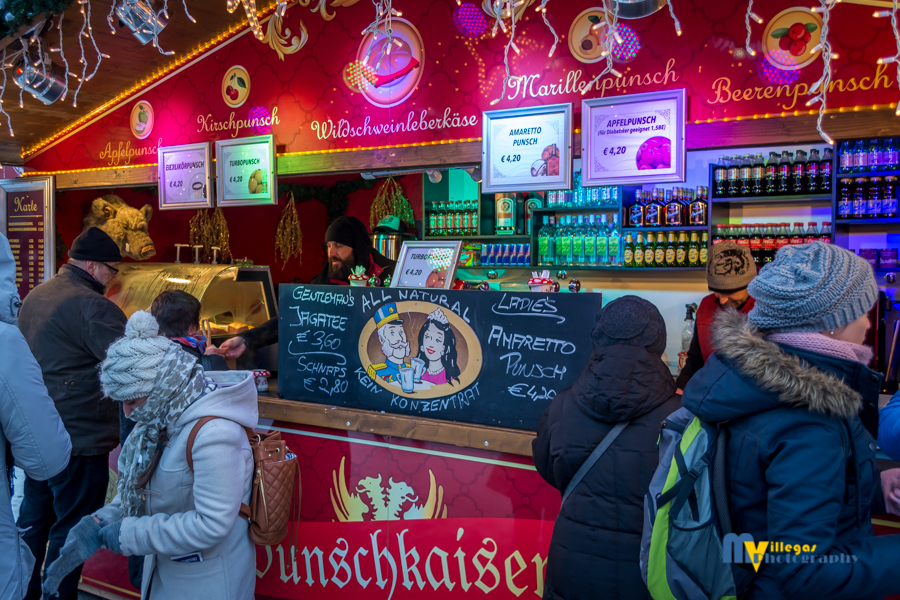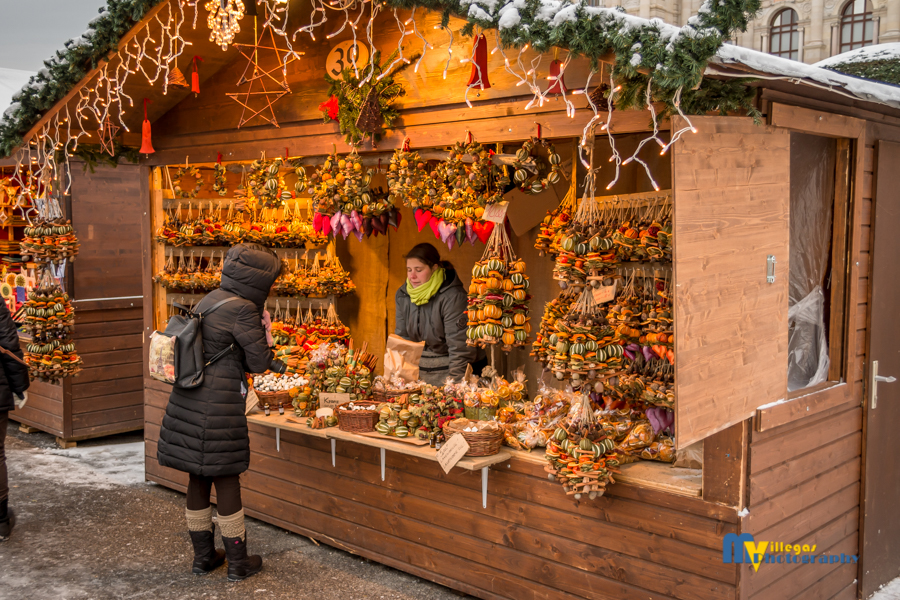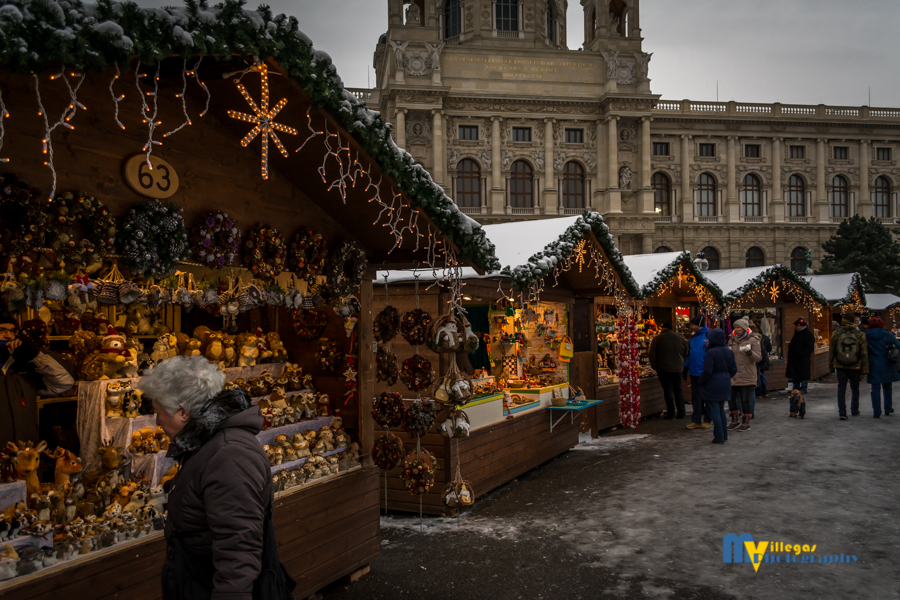 For equipment I took my Nikon D7100 along with a 35mm lens, the 18-55mm kit lens and a 55-300mm telephoto.  I was well covered for all eventualities.  I did find that the kit lens and the 55-300mm were not the best for night photography but after making myself stable against a wall I was still able to get some of the nighttime shots you see here.  The 35mm with its aperture of 1.8 came in much better as far as light is concerned but with a cropped sensor camera I could not get the wide angle needed for some of the buildings so I hardly used it at all.  But as I always say, what's important is that you capture the moment.  Whether it was a perfect shot or not is irrelevant.  You will look at that photograph the rest of your life and you will remember the feeling of the moment.  Not the equipment you used.
So anyways, this concludes the Vienna post.  Please feel free to comment and share the blog.  You can also ask any questions you want below.  I will get to them as soon as possible.
In the meantime, just keep shooting and prosit!  🙂